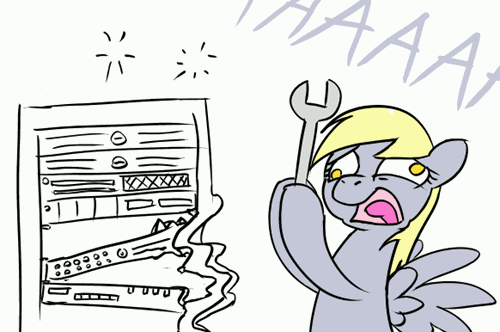 Yeah, so whatever this update did, it was not really an improvement. I don't know what went wrong here. Maybe the update process got interrupted or something, I don't know. Everything seemed to go fine.
As you may have noticed, I've been patching things up here and there. Most images are restored, and the registration issue seems to be resolved now, but there are still a whole heap of issues that still remain. Some of them I am aware of, while others I've found out from other users. By this logic, there is a good chance that there are other issues I am not yet aware of, which, the way I see it, will take too long to search for and identify.
As such, I see only one plan of action, and that is to wipe the forum files and start anew, keeping only the database which contains posts, user data, etc. The core forum files, this theme, all customisations and plugins that have made this forum B@H...All of it will have to be deleted. I can't revert the forum back to the previous version either, as the fixes I had to do to restore whatever functionality I could may have changed certain aspects of the files in ways that might cause reverted files to act in unintended manners. I don't want to break things any more than they already are.
I do not have any timeframe set out for this, but my plan is to download a completely new copy of the forums and install it on my laptop. I will recreate every layout and replicate the current theme there. Once satisfied, I will back up the database and forum files, delete the latter from the server, and transfer the new files over. I hope to get started on this as soon as I return from my holidays, as I have two days off before my next flight. To emphasise, your posts and settings will not be lost. The core forum files are what's broken and requires fixing. You may continue to post normally during this time.
As I will be starting on a fresh copy with nothing patched up or altered, I will take this opportunity to get any suggestions for forum changes. Anything you guys want to see in terms of layout or functionality? Something you think could be done differently?